EFT Enterprise with Accelerate - A High-Speed Managed File Transfer Solution
With the Accelerate module data transfers are 5 to 10 times faster than over FTP and more than 20 times faster than over SFTP. The Accelerate module allows you to meet service-level agreements for large file transfers with confidence and without the worries that commonly accompany the need to transfer large data sets across great distances and dispersed servers. Accelerated data transfers also significantly improve the time that it takes for files of any type or size to arrive at their destination.
When you choose managed file transfer with the Accelerate module, you can achieve maximum file transfer speed for any size file with optimal bandwidth usage, lower overhead, and near real-time communication.
The Accelerate module Enables...
  

Higher productivity gained by mitigating bottlenecks that stem from excessive latency

  

Full utilization of network bandwidth

  

Faster upload and download time between EFT servers

  

Accelerated file transfer processes with automation
  

How Fast Do File Transfers Go?

Data transfers that are sent using the Accelerate module means that the data moves in near real-time.
  

Sending with FTP:
If you take a 1 gigabyte file and send it using FTP from San Diego, California to Plano, Texas it would take 20 minutes for the file to reach its destination.

  

Sending with Accelerate:
The same 1 GB file sent from San Diego, California to Plano, Texas with the Accelerate module arrives at its destination in three and a half minutes – 20 times faster than FTP!
With the Accelerate module, sending and receiving files to and from any location around the world can be done reliably and quickly. The chart below to compares the difference between file transfer with FTP and fast file transfer with the Accelerate module.
  

Get Reliable Large Data Transfers with the FAST Protocol

Unlike the high cost of large file delivery through physical shipment or delays in sending through traditional TCP/IP file transfer methods, the Accelerate module delivers data in near real time, saving costs and resources. The Accelerate module uses the FAST protocol, powered by Data Expedition Inc.'s patented transport protocol, to increase the speed and reliability of file transfers.* 

Large Data Transfers are Faster Because There Are…
  

No ongoing error-checking packets

  

No ordering of messages

  

No tracking of connections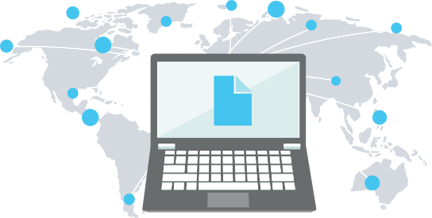 Accelerated File Transfers from Anywhere with scClient™

Remote workers that need to transfer a large file from a remote location to the office can use the Accelerate module in conjunction with its desktop web-based client, scClient. scClient is a secure, easy-to-use desktop client that simplifies the process of transferring large files from the field to the office. Never wonder if your transfer was successful with scClient, as it displays the status of your transfers in real time, along with your transfer history.

scClient can be preinstalled on remote workers' laptops or downloaded on-the-go from a web browser. Sending large files is both fast and reliable with EFT Enterprise and the Accelerate module.
  

Protect Sensitive, Large File Transfers with Multi-Layered Security

EFT Enterprise with the Accelerate module is a multi-layered secure file transfer solution. Data is neither stored nor processed through the DMZ Gateway; instead data is kept safe behind the firewall of EFT Enterprise – protecting both your data and network. Through a two-way connection that originates inside EFT Enterprise, the DMZ Gateway acts as a communication proxy at each end of the transfer to replace inherently insecure inbound connections from the Demilitarized Zone (DMZ) to your network.

Additional security benefits of EFT Enterprise with the Accelerate module include:
  

No data is ever stored or processed in the DMZ

  

Insecure inbound connections are eliminated because the DMZ Gateway acts as a communication proxy

  

Data remains secure in transit and at rest

  

Secure, easy-to-use desktop client configured to connect only to your EFT Enterprise
 

 High Speed File Transfers with the Accelerate Module

Discover the high-speed difference and try EFT Enterprise with the Accelerate module.
  

Save time and money, eliminating the need to travel with or ship critical files

  

Collaborate on big data in real time for better and faster decision making

  

Use all of the bandwidth that you pay for – all of the time
Still not convinced? Call your Globalscape solutions specialist now and start your free trial today.
*Globalscape has partnered with Data Expedition, Inc.® (DEI®) for technology behind the Accelerate module, available in EFT Enterprise. DEI is the creator of high-performance file transfer software that is free of legacy transport bottlenecks and vulnerabilities.