Secure File Sharing Defined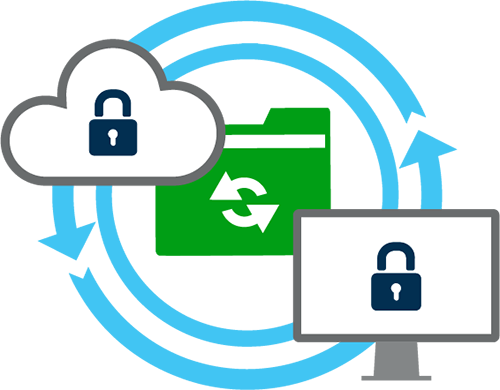 When it comes to protecting files, people generally rely on encrypting a file, before or during the transmission of a shared file. An encryption algorithm is what makes this manner of file sharing secure. From a local network or standard internet connection, a file can be shared in many different ways. Additionally, secure file sharing can be accomplished by using a private network connection (like a VPN).
On-premises File Sharing — Secure file sharing on-premises is the system or process of securely sharing one file or multiple files, which originate from an organization's owned servers and are located on-premises.
Cloud File Sharing — Through this off-premises file sharing solution, content is stored, managed, and distributed outside of your organization's firewall and through a third-party owned server.
A file sharing solution that's designed for business, such as Workspaces, Globalscape's enterprise file sync and share solution, will keep you in the driver's seat, providing full operational visibility and control over any and all data under your network.
What to Look for in a Secure File Sharing Solution
Critical features of an enterprise secure file sharing solution include:
Data Security
Quality enterprise solutions will provide robust permission controls and operational visibility for enhanced network and data security like, 128-bit SSL encryption in transit or 256-bit AES encryption at rest.
Data Protection and Back-up
As a safety precaution, data protection and back-up will protect the integrity of the data when new content or edits are created.
Fully Customizable
Whether you need enhanced analytics for reporting and monitoring or advanced levels of control for operational efficiency, a secure file sharing tool will offer a solution to benefit the security, efficiency, and collaboration needs of a business.
Mobility
The ability to have anytime, anywhere access to files enables employees to be productive from any location and with most mobile devices, depending on your organization's BYOD and security policies.
Collaboration
In a collaborative environment, an organization's IT administrator can maintain full control and visibility over who can access, edit and update folders or files. Enabling collaboration through a secure file sharing solution means security vulnerabilities are reduced.
Compliance
Compliance regulations vary from country to country. For organizations considering a file sharing solution, you need to gain an understanding about the legal requirements to avoid inadvertent compliance violations.
When evaluating secure file sharing tools and how they're deployed, it's important to consider the type, size, and volume of data that you have and expect to store and manage. It's also important to consider compliance, scalability, and budget.
Are you interested primarily in a secure encrypted email solution? Do you need an end-to-end managed file transfer system? By defining your organization's file sharing needs and business goals, while also understanding how you plan to use your new solution, it will make it a lot easier to determine which file sharing solution best fits your organization.
  Secure encrypted email solution
Secure File Sharing Resources
  Whitepaper
Through strong levels of encryption, secure file sharing through email provides an easy way to protect your sensitive data when it's at rest or in transit. Budget-friendly and effective, file sharing over email can be both affordable and secure.
Download Whitepaper
  Blog
Today's workforce expects instant access to information, and the ability to send and receive data at the press of a button. When companies' technology and tools come up short, employees look for a work around.
Read More
  Infographic
Security regularly takes a backseat to productivity and efficiency. If IT staff has any hope of managing and securing the sensitive data in their organizations, they must provide solutions that easily integrate into the daily routines of end users.
Learn More