Secure information exchange with Enhanced File Transfer™ (EFT™)
Enhanced File Transfer™ (EFT™) manages the secure transfer of data from one computer to another, also known as managed file transfer (MFT). EFT provides a robust security architecture for meeting business and regulatory requirements, a powerful server and an automated client, military-grade MFT security, wizard-based configuration, automated file transfers, advanced authentication options, and two-factor authentication.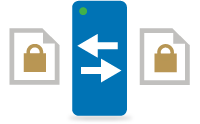 Manage secure email with Mail Express®
Mail Express® gives employees the ability to quickly and securely share large files with internal and external partners without disrupting existing workflow (email) or having to resort to unauthorized "box" solutions, all while providing IT centralized control over security policy. Mail Express provides for simple, secure (HTTPS) file exchange via email, unlimited file size, Outlook integration, and encryption of both the message and the attachments.