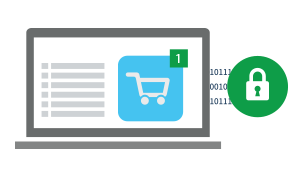 Secure data exchange solutions help retail organizations manage and quickly share data from any device while ensuring only the people that should have access, get access. Significantly reduce operating costs, increase productivity, and meet or exceed compliance mandates with Globalscape's managed file transfer solution, Enhanced File Transfer™ (EFT™) for Retail.
EFT for Retail:
Retail organizations rely on Globalscape's managed file transfer software, EFT for Retail, to turn a complicated data transfer environment into simple, efficient data transfer environment with increased user productivity and control.
EFT for Retail can help protect your data at rest and in transit, and help you comply with standards and regulations such as PCI DSS. EFT for Retail helps organizations improve their operational efficiency, while helping them address and maintain stringent compliance regulations.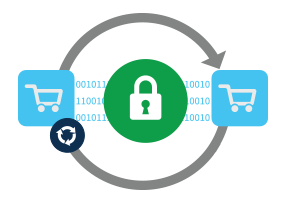 EFT for Retail features:
Quick and intuitive setup
Configure, deploy, and oversee enterprise data management policies from a central location
Advanced data workflow management and automation capabilities
Multi-layered security approach to help meet or exceed security and compliance requirements
Real-time visibility into data transfers
Benefits of EFT for Retail
Exchange Structured Business Data Securely over HTTP or HTTPS

Communicate securely with distributors and trading partners using AS2 to transfer EDI messages and other types of data. The Drummond-certified AS2 module gives EFT for Retail the ability to transfer data using AS2 over HTTP or HTTPS. Transaction monitoring tools let organizations identify and resolve problem transactions, and detailed reports provide detailed analysis of all transactions. Automatically send AS2 data using hot folders, scheduled events, or custom triggers in EFT for Retail.

Maintain PCI DSS Compliance

EFT for Retail is designed to help retail organization facilitate compliance of customer and business data to meet requirements mandated by PCI DSS and other standards. EFT for Retail provides automatically enforced policies, expiration of data access, purging of old data and records, and purging of inactive accounts—without any need for human intervention.

Reduce Staffing Costs with Automated Data Workflow Management

Retailers must communicate with many dispersed locations and move large volumes of data. Merchandising, pricing, and replenishing must take place in near real-time to keep up with the fast pace of retail cycles. EFT for Retail has advanced workflow management and automation features to reduce the burden on IT staff. As data is transmitted to and from multiple partners and the internal network, native event rules in EFT for Retail can execute secure file transfer operations that are specific to the data, such as encryption, renaming, moving, and numerous other actions.
Retail Secure File Transfer Resources
Success Story
A global, upscale retail brand has service-level agreements (SLA) with their banking and credit card processing partners, risking an increase in rates or loss of service...
Download Success Story
Success Story
A global retail distribution company in Seattle, WA regularly exchanges files of different types and sizes, ranging from SLAs to product design documents, with a company in Hong Kong..
Download Success Story
Success Story
Luxury Retail Fashion Brand integrated EFT Enterprise which provided a high available environment to streamline the secure and reliable movement of data within the company.
Download Success Story