Securely transfer financial information
Financial institutions know they need to comply with regulations and protect their clients' financial information. Globalscape knows how to keep your data safe and help you maintain compliance automatically. Scan files for malware or proprietary information and exchange files with clients and partners using a Microsoft Outlook Add-In or a web browser.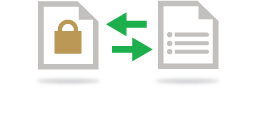 Collaborate on financial files anywhere in the world
Globalscape simplifies collaboration with a wide-area file sharing solution that can work across domains between multiple organizations. End users access their files from within Windows Explorer or other Windows file system locations, just like always, whether the file is located in New York or New Delhi. Eliminate slow, cumbersome collaboration and avoid project delays, budget overages, and angry clients.

Monitor and control distribution of private financial information
Configure, deploy, and manage information and policies from a central location. Track, audit, and guarantee delivery of files. Globalscape solutions can turn your complicated, archaic transmission environment into simple, efficient file sharing with increased productivity and control across a wide range of operational and support departments.