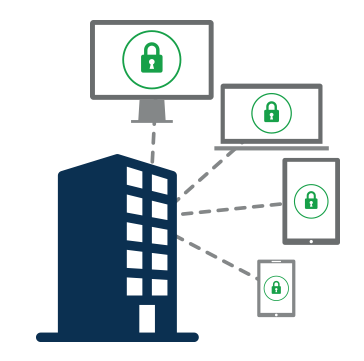 Secure data exchange solutions help media and entertainment companies manage and quickly share data from any device while ensuring only the people that should have access, get access. Significantly reduce operating costs, increase productivity, and continue to grow as an industry leader with Globalscape's managed file transfer solution, Enhanced File Transfer™ (EFT™) for Entertainment and Media.
EFT for Entertainment and Media:
Media and entertainment organizations rely on Globalscape's managed file transfer software, EFT for Entertainment and Media, to securely deliver high quality media worldwide.
EFT for Entertainment and Media helps organizations improve their productivity, while helping them provide their consumers and business partners with high-quality content. This means that distributed teams, business partners and outside vendors can easily and quickly share and exchange files regardless of size.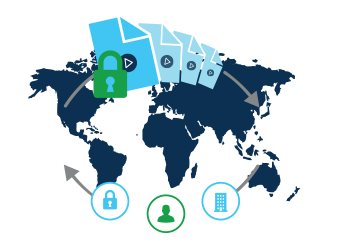 Quick and intuitive setup
Configure, deploy, and oversee data management policies from a central location
Advanced data workflow automation capabilities
Multi-layered security approach to help meet or exceed security and compliance requirements
Real-time visibility into data transfers
Benefits of EFT for Entertainment and Media
Enhanced Security for Data Exchanges

EFT for Entertainment and Media provides access to content for those authorized to view it and it boosts operational efficiency by providing an easy way for users to exchange files on-the-go. IT retains the control – move, track, audit, and secure your sensitive data.

Time is Money—Get Real-Time Automation

Get powerful file transfer automation for time-sensitive and confidential data. Even for a small volume of transferred files, the number of steps needed to accomplish multiple data exchanges daily can be very time consuming. With EFT for Entertainment and Media, an IT administrator can set up data transfers to occur automatically. Establish controlled, automated processes for key information exchange tasks to ensure efficiency, security, and compliance across an organization.

Faster File Transfers from Anywhere in the World

Delays or latency in moving data can create serious challenges for a business and the size of data being moved is only increasing, causing additional strain on bandwidth. EFT for Entertainment and Media is designed to increase the speed, efficiency and reliability of data movement across high-latency network.

Mobile Data Transfer

Remote employees and partners depend on access to files. EFT for Entertainment and Media provides secure file transfer capabilities via a web browser or on all major mobile devices so that remote or field employees can securely access the data they need. The best part is that data is stored securely within organizational boundaries instead of on a consumer cloud server. The Web Transfer Client and Mobile Transfer Client provide secure, monitored access to EFT files on the go.
EFT for Entertainment and Media Includes
Entertainment Secure File Transfer Resources
Success Story
The MFT Buyers Guide will walk you through what you should look for in a secure file transfer solution. The right solution will enable your enterprise to maximize security and compliance, while maintaining system uptime.
Download Whitepaper
Case Study
By implementing a HIPAA secure file transfer solutions, PeaceHealth has been able to merge disparate file transfer methods while improving security and compliance procedures.
Download Case Study
Success Story
In the healthcare industry, the handling of particularly sensitive information is a normal daily occurrence. However, internal mechanisms for processing and handling data do not generally offer a user friendly and secure method for exchanging that information with patients or third parties.
Download Success Story