Exchange government files securely
Government agencies are all about regulations, standards, and security policies. Protecting government networks at all levels, from billion-dollar systems managed by the US Army, to city government agencies, Globalscape products use industry-standard secure protocols and have earned the Federal Information Processing Standards (FIPS 140-2) certification and the Certificate of Networthiness (CoN) from the Army's Network Enterprise Technology Command.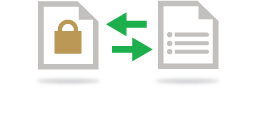 Collaborate on government files no matter where you're deployed
Globalscape simplifies collaboration with a wide-area file sharing solution that can work across domains between multiple organizations. End users access their files from within Windows Explorer or other Windows file system locations, just like always, whether the file is located in New York or New Delhi. Save the cost of travel and employee relocation by replicating and sharing files on the WAN—at LAN speeds.

Monitor and control the exchange of government files
Configure, deploy, and manage information and policies from a central location. Track, audit, and guarantee delivery of files. Globalscape solutions can turn your complicated, archaic transmission environment into simple, efficient file sharing with increased productivity and control across a wide range of operational and support departments.