Compliant file transfers
Enhanced File Transfer™ (EFT™) from Globalscape facilitates compliance of your patient, client, customer, and business data networks to meet data transfer standards mandated by HIPAA, HITECH, SOX, PCI DSS, and others.
Protect data in transit or at rest on file transfer systems
Track and audit user activity and file movement
Meet requirements for data wiping and sanitization
Monitor and alert in real-time on potential violations of security standards
Capture compensating controls and generate reports on compliance status
  Enhanced File Transfer (EFT): Globalscape's Managed File Transfer Solution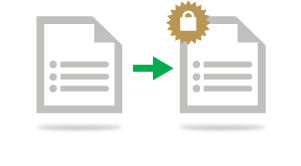 Compliant emails
Email communications with patients, customers, and clients are required to meet privacy standards established by HIPAA, HITECH, SOX, PCI DSS, and others. Mail Express from Globalscape offers secure encrypted email solutions that enable you to protect sensitive information.
Comply with personally identifiable information (PII) and patient medical data protection mandates
Comply with encryption, storage, and auditing guidelines
Provide secure alternative to cloud-based solutions for sending files
Track, audit, and guarantee file delivery with pickup receipts