Sync Easily
Synchronize your blog and website files on your desktop with your remote servers. In CuteFTP®, you can define the remote folders once, then run the sync task on a schedule or manually, as needed. You can manually sync certain items as defined in a filter, or sync all remote and local folders for backup. Compare folder contents between your local and remote storage, and use macros or scripts to manage synchronization tasks automatically. Monitor your local folders for file changes, and automatically connect and upload files to your remote server.
Users looking for a solution for business use should see EFT Workspaces, featuring enterprise file sync and share capability.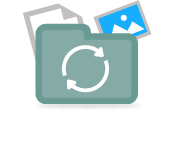 Sync Securely
Ensure security of synchronized files with SSL/TLS or SFTP, OpenPGP encryption, and password protection. Passwords protect access to remote servers, and remote server configuration settings can be encrypted.
With CuteFTP®, your synchronizations can take place using secure protocols.