Securely transfer travel documents
Photographic images, security videos, inventory lists, ship manifests, or seating charts, the travel industry handles files of all types and sizes. Whether travelers are in Boston, Bangalore, or the Bering Sea, travel agents, tourist agencies, airlines, rail lines, and cruise lines all need to transfer files quickly, reliably, and securely. Globalscape's Managed File Transfer solution can handle any file, in any size, at any distance, without missing a byte.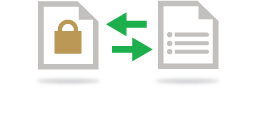 Collaborate on travel documents with partners
Globalscape simplifies collaboration with a file synchronization and replication solution that can work across domains between multiple organizations. End users access their files from within Windows Explorer or other Windows file system locations, just like always, whether the file is located in New York or New Delhi. Eliminate slow, cumbersome collaboration and avoid project delays, budget overages, and angry clients.

Monitor and control travel documents
Configure, deploy, and manage information and policies from a central location. Track, audit, and guarantee delivery of files. Globalscape's file sync and share solutions can turn your complicated, archaic transmission environment into simple, efficient collaboration with increased productivity and control across a wide range of operational and support departments.