Securely share legal documentation
In law, it's all about what you can prove, and proof must be documented. Legal teams need access to that documentation no matter where they are. Globalscape secure file sharing solutions can provide any-time, any-where access to that information, and keep it stored securely in your trusted network. Securely share legal files with remote co-counsels and clients, collaborate on legal briefs from around the world, and trust that your data is protected and under your control.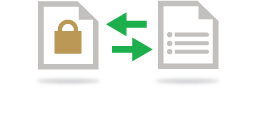 Collaborate on legal briefs
Globalscape simplifies collaboration with a wide-area file sharing solution that can work across domains between multiple organizations. End users access their files from within Windows Explorer or other Windows file system locations, just like always, whether the file is located in New York or New Delhi. Eliminate slow, cumbersome collaboration and avoid project delays, budget overages, and angry clients.

Monitor and control legal files from a central location
Configure, deploy, and manage data and policies from a central location. Track, audit, and automate file transfers. Globalscape solutions can turn your complicated, archaic transmission environment into simple, efficient file sharing with increased productivity and control across a wide range of operational and support departments.