Add security layers to your file transfers
Many organizations need to share files between customers and trading partners quickly and securely. But with collaboration comes the threat of embedded malware and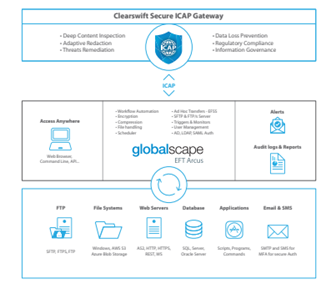 data loss. Ensuring secure file transfer is a high priority for many organizations, especially those that handle PII, sensitive files, or confidential documents.
Fortra (formerly HelpSystems) offers seamless threat protection within our Secure Managed File Transfer solutions to ensure every file transfer crossing your MFT platform has been inspected and cleared to safely continue.
What is the SFT threat protection bundle?
Fortra offers integrated threat protection and data loss prevention for Globalscape EFT. This integration allows you to inspect managed file transfer content for threats as well as leakage, allowing your organization to share critical information with an unprecedented level of management control and security.
How It Works
By integrating a deep layer of inspection and sanitization through our Secure ICAP Gateway, additional information controls can be put in place to enforce adaptive security and compliance policies for all files being transferred. As file sharing traffic passes through this enhanced level of management and security, it overcomes the primary challenge that consumer-oriented cloud collaboration tools suffer from.
Common Use Cases
Prevent files with malware from being shared: If users knowingly (or unknowingly) attempt to transfer files with malware, the file transfer will not be allowed to continue.
Block files with sensitive data from being shared: Prevent files with PII or other sensitive data from the transfer process
Redact sensitive information from file transfers: Share files with any highly sensitive data stripped from the document
Business Benefits
Secure collaboration 
The SFT Threat Protection bundle adds a secure layer over the file transfer process. By applying threat protection, deep content inspection, and data loss prevention, you can securely collaborate without fear of malware infecting the organization, or other data loss.
Protection against cyber threats
Cyber criminals are continuously trying to find the easiest way to attack organizations, and using less-protected partners is becoming a common route for attack. Clearswift and Globalscape offer a combined solution that will stop those threats while allowing business information exchange to continue.
Get complete information control back
Data privacy regulations such as the GDPR require organizations to take full control of what information is being shared and with whom. SFT Threat Protection provides a means to identify users accessing or sharing information and apply the appropriate policy. By automating the detection and cleansing of information subject to regulations, organizations can deal with the increasingly high amount of information exchanged, keeping information under control and allowing business communications to continue.
About Fortra MFT Solutions
Secure Managed File Transfer Solutions from Fortra streamline the exchange of data between your systems, employees, customers, and trading partners. They provide a single point of control with extensive security settings, detailed audit trails and reports, encryption, and more.
An intuitive interface and comprehensive workflow features help eliminate the need for custom programs/scripts, single-function tools, and manual processes that were traditionally needed. These innovative solutions will reduce costs, improve the quality of your file transfers, and help your organization comply with data security policies and compliance regulations.
A Seamless Duo
See it in action by requesting a demo of our bundle for Globalscape EFT.