Securely exchange files with utility companies and suppliers
Transfer any file, in any size, without missing a byte. Secure your files at rest and in transit using OpenPGP data encryption technology. Transfer files over a variety of secure protocols, including SFTP (SSH2), FTPS (SSL/TLS), HTTPS, and AS2, keeping your proprietary information safe behind the firewall, and still share it with external partners.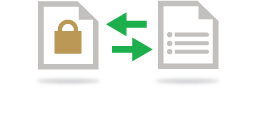 Collaborate on any-sized files anywhere in the world
Collaborate 24/7 on files of any size across the globe, even across domains, with enterprise file replication solutions from Globalscape. End users access their files from within Windows Explorer or other Windows file system locations, just like always, whether the file is located in Houston or Kuwait. Eliminate slow, cumbersome collaboration and avoid project delays, budget overages, and angry energy partners.

Monitor and control access and file movement from one location
Configure, deploy, and manage information and policies from one portal to secure and streamline processes. Track, audit, and guarantee delivery of files. Globalscape's secure file sharing solutions can turn your complicated, archaic transmission environment into simple, efficient file sharing with increased productivity and control across a wide range of operational and support departments.