GlobalSCAPE Introduces New Product and Support Bundles Tailored to Align with Users' Business Objectives and Provide Superior Value
SAN ANTONIO--(BUSINESS WIRE)--GlobalSCAPE, Inc. (NYSE American: GSB) ("GlobalSCAPE" or the "Company"), a worldwide leader in the secure movement and integration of data, today announced updated product and support bundles designed to simplify the way products and support services are offered, and help organizations align the investment in the purchase of Globalscape software and support with business objectives.
Globalscape's powerful Managed File Transfer (MFT) solutions provide enterprise-level security and automate the movement and integration of data. Built-in compliance, governance and visibility controls secure data to the most stringent of regulations, giving organizations the confidence that critical business data is safe, in transit and at rest. 
"As organizations continue to undergo digital business transformation, it's imperative that we respond to the increasing demands placed on their enterprises with industry leading product bundles and support services that address their modern engagement and business objectives," said Matt Goulet, Globalscape president and CEO. "Our new programs simplify the purchase of our products and support services, and underscore our commitment to making our customer's businesses flow brilliantly—on premises and in the cloud," added Goulet.
IT'S NOW EVEN EASIER TO PURCHASE GLOBALSCAPE PRODUCTS AND SERVICES
We've made some important changes that increase the value and functionality of Globalscape products and support services, and take the guess work out of the review and purchase process. What's more, we've built in new functionality and created new bundles, each tailored to provide the features and services that deliver maximum benefits for minimal expense. Now, whether you're a small business user, a large enterprise—or anywhere in between—we have new options to choose from that can improve your productivity and satisfy your specific business requirements.
New Product Enhancements
EFT SMB Renamed—Say "Hello" to EFT Express
EFT SMB is now EFT Express. We've renamed EFT SMB to EFT Express to better align with how our customers prefer to purchase our solutions. Loved by thousands of customers worldwide for its simplicity, ease-of-use and speed of implementation, EFT Express is perfect for organizations of any size that need to connect to trading partners, customers or vendors or simply need to do SFTP backups.
EFT Enterprise—Advanced Automation & Security Functionality Now Included
Mobile Transfer Client and Cloud Connector Module Now Standard in EFT Enterprise—The Mobile Transfer Client and the Cloud Connector Module are now standard with the release of EFT Enterprise v 7.4.7, and are natural extensions to the core functionality of EFT. Customers benefit from simplified connectivity to employee devices and improved integration with popular cloud services, including AWS and Azure.
Advanced Security Module (ASM) Streamlines Security in a Single Module—Also with the release of EFT 7.4.7, we're consolidating most of our award-winning security functionality into a single module. The Advanced Security Module (ASM) includes all of the functionality of the High Security Module (HSM), the Advanced Authentication Module (AAM)*, and the Content Integrity Control (CIC)* module already within EFT Enterprise.  These additions, combined with the existing DMZ Gateway and the PGP module functionality, round out the available security modules for EFT Enterprise. *AAM functionality includes 2-factor authentication and SAML single sign-on experience. CIC module offers integration with industry leading antivirus and data loss prevention servers.
New Product Bundles Designed to Meet Modern Business Objectives
Our new, prepackaged bundles now feature the most user requested modules/functionality built-in— simply choose the bundle option that's right for your needs. More complex use cases can also be accommodated. EFT Express Bundles start at $875.   We also offer a-la-carte options that flex to meet custom requirements at every price point. (Call for plans and pricing).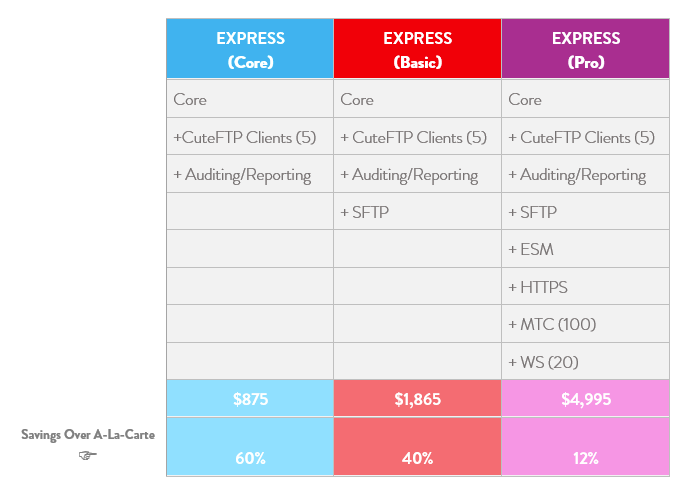 For more information about our award winning Enterprise Solution, EFT 7.4.7 click here.
STREAMLINED SUPPORT SERVICES DESIGNED TO MAXIMIZE LIFETIME VALUE OF YOUR INVESTMENT
Globalscape offers a range of Premium Support Services designed to meet the needs of your infrastructure and drive better business outcomes. Whether your support requirements are simple or complex, Globalscape's team of US-based support engineers and technical account managers are available 24/7 to maximize the lifetime value of Globalscape products and provide true customer satisfaction.
With Globalscape Support, you can choose the level of engagement that's right for your needs. Engagement options include:
BASIC
Designed for small to mid-sized organizations that only need break/fix and web-based support during normal business hours. This option is only available with EFT Express purchases.
PROFESSIONAL
Designed for growing businesses that benefit from deployment configurations, migration and best practices advice, as well as live (telephone) support from support engineers.
PREMIER
Designed for mid- to large organizations that require fast access to support resources with 24x7 support availability for critical issues, as well as priority response handling and resolution from a senior technical team.
EXPERT
Designed for large enterprises with complex environments that require dedicated, personalized, proactive support around the clock from a seasoned Technical Account Manager. Includes a complimentary Health Check and one-day Onsite Review.
"Today's global economy drives the demand for world-class support that meets the needs of any business size or complexity, in the most demanding environments," said David Mello, Globalscape VP of Operations. "Globalscape is committed to providing high-touch, rapid response service and support that delivers a truly personalized experience, ensures a lasting return on investment, and earns the loyalty of our customers for life," added Mello.
Availability & Pricing—Learn More
For more information about Globalscape product bundles, click here or call 1-800-290-5054.
For more information about Globalscape support services, click here or call 1-800-290-5054.
About GlobalSCAPE
Globalscape, Inc. (NYSE MKT: GSB) is a pioneer in securing and automating the movement and integration of data seamlessly in, around and outside your business, between people and places, in and out of the cloud.  Globalscape provides technology that automates your work and secures your data, while giving visibility to those who need it. Globalscape makes business flow brilliantly.  For more information, visit http://www.globalscape.com or follow the blog and Twitter updates.
 
Safe Harbor Statement
This press release contains forward-looking statements within the meaning of Section 27A of the Securities Act of 1933 and Section 21E of the Securities Exchange Act of 1934. The words "would," "exceed," "should," "anticipates," "believe," "expect," and variations of such words and similar expressions identify forward-looking statements, but their absence does not mean that a statement is not a forward-looking statement. These forward-looking statements are based upon the Company's current expectations and are subject to a number of risks, uncertainties and assumptions. The Company undertakes no obligation to update any forward-looking statements, whether as a result of new information, future events or otherwise. Among the important factors that could cause actual results to differ significantly from those expressed or implied by such forward-looking statements are risks that are detailed in the Company's Annual Report on Form 10-K for the 2016 fiscal year, filed with the SEC on March 27, 2017; the discovery of additional information relevant to the internal investigation; the conclusions of the Company's Audit Committee (and the timing of the conclusions) concerning matters relating to the internal investigation; the timing of the review by, and the conclusions of, GlobalSCAPE's independent registered public accounting firm regarding the internal investigation and GlobalSCAPE's financial statements; the possibility that additional errors may be identified; the risk that the completion and filing of the Company's reports to be filed with the SEC will take longer than expected; pending litigation and the possibility of further legal proceedings adverse to GlobalSCAPE resulting from the restatement or related matters; and the costs associated with the restatement.
GlobalSCAPE Press Contact
Samantha Harris
SHIFT Communications
Phone: 512-792-2550
Email: [email protected]
GlobalSCAPE Investor Relations Contact
Matt Glover or Najim Mostamand, CFA
Liolios Group, Inc.
Phone Number: 210-801-8489
Email: [email protected]