GlobalSCAPE, Inc. Appoints Gary S. Mullen as Vice President of Marketing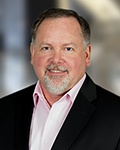 GlobalSCAPE, Inc. (NYSE MKT: GSB), a pioneer and worldwide leader in the secure and reliable exchange of business information, announced that Gary S. Mullen has been appointed Vice President of Marketing where he will be responsible for the strategic direction and execution of all global marketing programs for the organization.
As Globalscape's Vice President of Marketing, Mullen will oversee and lead marketing strategy, messaging development and demand generation initiatives. In addition, Mullen will oversee communications, content, channel and event marketing to drive brand awareness and increase the overall impact marketing results have on the sales organization.
Mullen brings more than 20 years of experience in the technology and security industries, with specific focus on building global, customer-focused marketing teams driven to impact sales efforts. He is an experienced marketing professional with focus areas in brand management, channel strategy, product marketing, and profit and loss management within businesses focused on cybersecurity, cloud computing, software as a service and networking. Mullen has held previous leadership positions at a number of technology organizations including Kaspersky Lab, Vijilan Security, IBM, Cybertrust and GE, among others.
Supporting Quote:
Matt Goulet, President and CEO at Globalscape
"Gary joins our team with a wealth of skills and industry experience from an array of highly-reputable technology and security companies. With a highly strategic, customer-focused and sales-minded approach to marketing, I have no doubt that Gary will be a strong leader and vital part of the Globalscape team. We look forward to having him with us as we continue to grow, identify new opportunities in the market, and increase shareholder value."
About Globalscape
GlobalSCAPE, Inc. (NYSE MKT: GSB) is a pioneer in the reliable exchange of mission-critical business data and intellectual property. Globalscape's leading enterprise suite of solutions delivers military-proven security for achieving best-in-class control and visibility of data across multiple locations. Founded in 1996, Globalscape's software and services are trusted by tens of thousands of customers worldwide, including global enterprises, governments, and small and medium enterprises. For more information, visit www.Globalscape.com or follow the blog and Twitter updates.
Safe Harbor Statement
This press release contains forward-looking statements within the meaning of Section 27A of the Securities Act of 1933 and Section 21E of the Securities Exchange Act of 1934. The words "would," "exceed," "should," "anticipates," "believe," "steady," "dramatic," "expect," and variations of such words and similar expressions identify forward-looking statements, but their absence does not mean that a statement is not a forward-looking statement. These forward-looking statements are based upon the Company's current expectations and are subject to a number of risks, uncertainties and assumptions. The Company undertakes no obligation to update any forward-looking statements, whether as a result of new information, future events or otherwise. Among the important factors that could cause actual results to differ significantly from those expressed or implied by such forward-looking statements are risks that are detailed in the Company's Annual Report on Form 10-K for the 2015 fiscal year, filed with the Securities and Exchange Commission on March 3, 2016.