GlobalSCAPE, Inc. Wins Multiple 2016 Golden Bridge Awards for IT and Security Product Innovation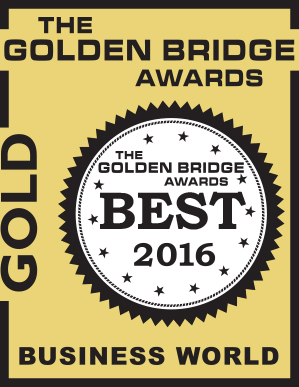 GlobalSCAPE, Inc. (NYSE MKT: GSB), a pioneer and worldwide leader in the secure and reliable exchange of business information, has been recognized for product excellence by the 2016 Golden Bridge Awards, for multiple delivery methods of the company's core product in the following categories:
Access Compliance and Risk Management (Gold Winner) – Enhanced File TransferTM (EFTTM) exceeds security practices mandated by the most rigorous standards, including PCI DSS, HIPAA, Sarbanes-Oxley, and many others.
Managed File Transfer (Gold Winner) – EFT Cloud ServicesSM combines the flexibility and scalability of a cloud infrastructure with the security of Globalscape's on-premises file transfer solution – with features including intrusion detection and antivirus protection, full-time port monitoring, firewall protection and more – for a secure and scalable cloud-based MFT solution.
Now in its eighth year, the Golden Bridge Awards program encompasses the world's best in organizational performance, innovations, products and services, executives and management teams, women in business and the professions, innovations, best deployments, product management, public relations, marketing, corporate communications, international business, and customer satisfaction programs from every major industry in the world.
This year's winners will be honored in San Francisco on Monday, September 12, 2016 during the annual Red Carpet Golden Bridge Awards Ceremony.
Supporting Quote:
Peter Merkulov, Vice President of Product Strategy and Technology Alliances at Globalscape   
"Managing the movement and security of data is an enormous challenge for organizations today, and this issue is one that Globalscape addresses head-on in everything we do. The recognition of our award-winning EFT platform by the Golden Bridge Awards demonstrates that our offerings are not only up to the challenge, but poised to provide enterprises of all sizes with powerful tools that address their pressing data needs. We are especially thrilled to have EFT Cloud Services recognized as it once again affirms that Globalscape is at the forefront of the migration of data and IT workloads into the cloud."
For more information about any of Globalscape's award-winning products, please visit: https://www.globalscape.com/.
About the Golden Bridge Awards
Golden Bridge Awards are an annual industry and peers recognition program honoring best companies in every major industry from large to small and new start-ups in North America, Europe, Middle-East, Africa, Asia-Pacific, and Latin-America, Best New Products and Services, Best Innovations, Management and Teams, Women in Business and the Professions, Case Studies, Customer Satisfaction, and PR and Marketing Campaigns from all over the world. Learn more about The Golden Bridge Awards at www.goldenbridgeawards.com.
About Globalscape
GlobalSCAPE, Inc. (NYSE MKT: GSB) is a pioneer in the reliable exchange of mission-critical business data and intellectual property. Globalscape's leading enterprise suite of solutions delivers military-proven security for achieving best-in-class control and visibility of data across multiple locations. Founded in 1996, Globalscape's software and services are trusted by tens of thousands of customers worldwide, including global enterprises, governments, and small and medium enterprises. For more information, visit www.Globalscape.com or follow the blog and Twitter updates.
Safe Harbor Statement
This press release contains forward-looking statements within the meaning of Section 27A of the Securities Act of 1933 and Section 21E of the Securities Exchange Act of 1934. The words "would," "exceed," "should," "anticipates," "believe," "steady," "dramatic," "expect," and variations of such words and similar expressions identify forward-looking statements, but their absence does not mean that a statement is not a forward-looking statement. These forward-looking statements are based upon the Company's current expectations and are subject to a number of risks, uncertainties and assumptions. The Company undertakes no obligation to update any forward-looking statements, whether as a result of new information, future events or otherwise. Among the important factors that could cause actual results to differ significantly from those expressed or implied by such forward-looking statements are risks that are detailed in the Company's Annual Report on Form 10-K for the 2015 fiscal year, filed with the Securities and Exchange Commission on March 3, 2016.