GlobalSCAPE, Inc. Promotes Two Senior Leaders to Vice President Roles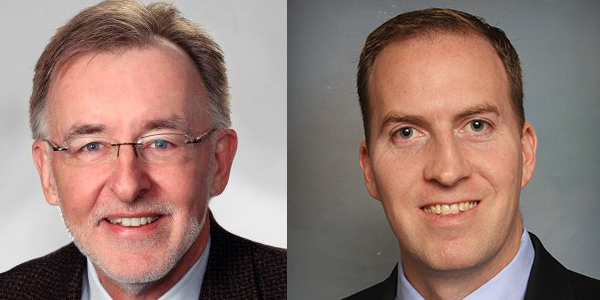 Dan Burke (left), Adam Snider (right)
GlobalSCAPE, Inc. (NYSE MKT: GSB), a pioneer and worldwide leader in the secure and reliable exchange of business information, announced today that Daniel Burke has been promoted to Vice President of Worldwide Sales, while Adam Snider has been appointed to Vice President of Operations.
Burke has more than 20 years of experience in the technology industry, and has been with the Company since 2013. Prior to his new role he served as an Enterprise Sales Manager at Globalscape. Burke has held previous leadership positions at a number of technology organizations including Kaspersky Lab, Trend Micro, LogiKeep and CentraComm. As Vice President of Worldwide Sales, Burke will be responsible for managing the organization's enterprise sales, mid-market sales, international sales and business development teams.
Snider has been with Globalscape since 2008, having held previous positions at the company including Vice President of Sales and Sales Operations and Director of Information Systems. As Vice President of Operations, Snider will be responsible for overseeing customer support, IT and sales operations teams. Prior to his time at Globalscape, Snider was a Managing Partner at Opus Magnum Software and was an Antenna Design Engineer at Raytheon Space and Airborne Systems.
Supporting Quote:
Matt Goulet, President and CEO at Globalscape
"Dan and Adam are incredibly talented individuals who have been vital to the recent success and growth of Globalscape. While we have worked tirelessly to break a number of company revenue records in the past few years, we have a challenging mission ahead of us to continue to propel Globalscape forward. I undoubtedly believe that Dan and Adam's experience, vision and leadership will help raise and set the bar for our sales and operations teams for many years to come."
About Globalscape
GlobalSCAPE, Inc. (NYSE MKT: GSB) is a pioneer in the reliable exchange of mission-critical business data and intellectual property. Globalscape's leading enterprise suite of solutions delivers military-proven security for achieving best-in-class control and visibility of data across multiple locations. Founded in 1996, Globalscape's software and services are trusted by tens of thousands of customers worldwide, including global enterprises, governments, and small and medium enterprises. For more information, visit www.globalscape.com or follow the blog and Twitter updates.

Safe Harbor Statement
This press release contains forward-looking statements within the meaning of Section 27A of the Securities Act of 1933 and Section 21E of the Securities Exchange Act of 1934. The words "would," "exceed," "should," "anticipates," "believe," "steady," "dramatic," and variations of such words and similar expressions identify forward-looking statements, but their absence does not mean that a statement is not a forward-looking statement. These forward-looking statements are based upon the Company's current expectations and are subject to a number of risks, uncertainties and assumptions. The Company undertakes no obligation to update any forward-looking statements, whether as a result of new information, future events or otherwise. Among the important factors that could cause actual results to differ significantly from those expressed or implied by such forward-looking statements are risks that are detailed in the Company's Annual Report on Form 10-K for the 2015 fiscal year, filed with the Securities and Exchange Commission on March 3, 2016.