Two GlobalSCAPE, Inc. Channel Team Members Selected for CRN's 2016 Women of the Channel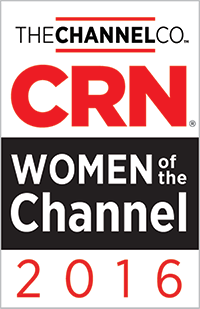 GlobalSCAPE, Inc. (NYSE MKT: GSB), a pioneer and worldwide leader in the secure and reliable exchange of business information announced today that CRN®, a brand of The Channel Company, has named Elena Spelson, Senior Channel Sales Manager, and Emily Leach, Channel Marketing Manager to its prestigious 2016 Women of the Channel list. The professionals selected for the annual list span the IT channel, representing vendors, distributors, solution providers and other organizations that figure prominently in the channel ecosystem. Each is recognized for her outstanding leadership, vision, and unique role in driving channel growth and innovation.
CRN editors select the Women of the Channel honorees based on their professional accomplishments, demonstrated expertise, and ongoing dedication to the IT channel.
Spelson is an accomplished channel professional who has contributed to the success of channel teams at Aruba Networks, Quest Software (now a part of Dell) and Kaspersky Lab. As a Senior Channel Sales Manager, Spelson works closely with national services providers on behalf of Globalscape, helping to deepen the relationship and keep them educated on the company's technology. Leach serves as Globalscape's Channel Marketing Manager, where she oversees marketing campaigns targeting channel partners and development of the organization's Partner Program.
The Globalscape Partner Program was recently awarded a 5-Star Rating in CRN's 2016 Partner Program Guide, which recognizes a prestigious category of organizations that offer solution providers the best partnering elements in their channel programs. In addition, three of Globalscape's leaders were recognized as CRN 2016 Channel Chiefs.
Supporting Quotes:
Tamela Gates May, Vice President of Channel Sales and Marketing at Globalscape
"It's incredibly rewarding to see two of Globalscape's channel team members recognized for their contributions to the channel and influence on the industry. As a larger team, we strive to create initiatives and programs that will empower our partners, resellers, and national service providers to succeed with Globalscape. The inclusion of Elena and Emily on this list only confirms that our efforts continue to have a positive effect on the channel, and these two talented professionals are well-positioned to influence Globalscape's Partner Program and the channel business for many years to come."
Robert Faletra, CEO at The Channel Company
"These executives have made a lasting mark on our industry—growing and elevating partner programs, leading transitions to new business models and introducing cutting-edge go-to-market strategies, among other remarkable achievements. We congratulate all the 2016 Women of the Channel and celebrate their singular contributions to the advancement of the channel ecosystem."
The 2016 Women of the Channel list will be featured in the June issue of CRN Magazine. For more information about Globalscape's Partner Program, please visit: https://www.globalscape.com/partners.
About Globalscape
GlobalSCAPE, Inc. (NYSE MKT: GSB) is a pioneer in the reliable exchange of mission-critical business data and intellectual property. Globalscape's leading enterprise suite of solutions delivers military-proven security for achieving best-in-class control and visibility of data across multiple locations. Founded in 1996, Globalscape's software and services are trusted by tens of thousands of customers worldwide, including global enterprises, governments, and small and medium enterprises. For more information, visit www.globalscape.com or follow the blog and Twitter updates.

Safe Harbor Statement
This press release contains forward-looking statements within the meaning of Section 27A of the Securities Act of 1933 and Section 21E of the Securities Exchange Act of 1934. The words "would," "exceed," "should," "anticipates," "believe," "steady," "dramatic," and variations of such words and similar expressions identify forward-looking statements, but their absence does not mean that a statement is not a forward-looking statement. These forward-looking statements are based upon the Company's current expectations and are subject to a number of risks, uncertainties and assumptions. The Company undertakes no obligation to update any forward-looking statements, whether as a result of new information, future events or otherwise. Among the important factors that could cause actual results to differ significantly from those expressed or implied by such forward-looking statements are risks that are detailed in the Company's Annual Report on Form 10-K for the 2015 fiscal year, filed with the Securities and Exchange Commission on March 3, 2016.
About the Channel Company
The Channel Company enables breakthrough IT channel performance with our dominant media, engaging events, expert consulting and education, and innovative marketing services and platforms. As the channel catalyst, we connect and empower technology suppliers, solution providers and end users. Backed by more than 30 years of unequaled channel experience, we draw from our deep knowledge to envision innovative new solutions for ever-evolving challenges in the technology marketplace. www.thechannelco.com
CRN is a registered trademark of The Channel Company, LLC.  The Channel Company logo is a trademark of The Channel Company, LLC (registration pending).  All rights reserved.