GlobalSCAPE, Inc.Named as One of the Best Companies to Work for in Texas for the Fifth Consecutive Year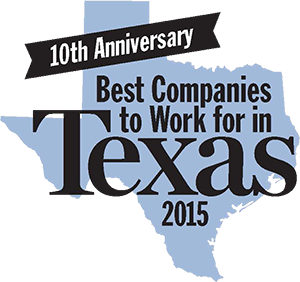 GlobalSCAPE, Inc. (NYSE MKT: GSB), the secure information exchange company, today announced that it has been named one of the 2015 Best Companies to Work for in Texas. The awards program was created in 2006 and is a project of Texas Monthly, the Texas Association of Business (TAB), Texas SHRM and Best Companies Group.
With the release of the 2015 list, Globalscape has been recognized on the Best Companies to Work for in Texas list for five years in a row. This statewide survey and awards program was designed to identify, recognize and honor the best places of employment in Texas, benefiting the state's economy, workforce and businesses. The top 100 overall winners are recognized as companies that have the best practices among Texas employers. Globalscape was ranked number 3 of 32 on the Best Companies to Work for in Texas list, among organizations with 100 to 499 employees. To be considered for participation, companies had to fulfill the following eligibility requirements:
Have at least 15 employees working in Texas
Be a for-profit or not-for-profit business or government entity
Be a publicly or privately held business
Have a facility in the state of Texas
Be in business a minimum of 1 year
The rankings were revealed at the Best Companies to Work for in Texas event at the end of March, and will also be profiled by Texas Monthly in a special publication that will be released in conjunction with the event.
For more information on the Best Companies to Work for in Texas program, visit www.BestCompaniesTX.com.
SUPPORTING QUOTES:
James Bindseil, CEO of GlobalSCAPE, Inc.
"We are honored to have Globalscape once again recognized as one of the best places to work in the state. It's always been incredibly important that we create a workplace environment that is meaningful and fun but it's gratifying to know that we are among the few who go above and beyond to establish and preserve such a unique culture for our staff."
About Globalscape
San Antonio, Texas-based GlobalSCAPE, Inc. (NYSE MKT: GSB) ensures the reliability of mission-critical operations by securing sensitive data and intellectual property. Globalscape's suite of solutions features the EFT platform, the industry-leading enterprise file transfer solution that delivers military-grade security and a customizable platform for achieving best-in-class control and visibility of data in motion or at rest, across multiple locations. Founded in 1996, Globalscape is a leading enterprise solution provider of secure information exchange software and services to thousands of customers, including global enterprises, governments, and small businesses. For more information, visit www.globalscape.com or follow the blog and Twitter updates.

Safe Harbor Statement
This press release contains forward-looking statements within the meaning of Section 27A of the Securities Act of 1933 and Section 21E of the Securities Exchange Act of 1934. The words "would," "exceed," "should," "anticipates," "believe," "steady," "dramatic," and variations of such words and similar expressions identify forward-looking statements, but their absence does not mean that a statement is not a forward-looking statement. These forward-looking statements are based upon the Company's current expectations and are subject to a number of risks, uncertainties and assumptions. The Company undertakes no obligation to update any forward-looking statements, whether as a result of new information, future events or otherwise. Among the important factors that could cause actual results to differ significantly from those expressed or implied by such forward-looking statements are risks that are detailed in the Company's Annual Report on Form 10-K for the 2014 fiscal year, filed with the Securities and Exchange Commission on March 30, 2015.