Enhanced File Transfer™ (EFT™) by Globalscape can be configured to connect to any client that uses industry-standard Internet protocols (FTP, FTPS, HTTP, HTTPS, SFTP, AS2). EFT also has its own clients, the Web Transfer Client, and the Mobile Transfer Client, and can connect to Mail Express® by Globalscape for auditing and tracking.
Transfer Files from Any Web Browser
EFT, Globalscape's secure file transfer solution, offers a powerful thin browser client that provides broad compatibility with diverse trading partners. EFT's built-in client, the Web Transfer Client (WTC), can be used by any partner using virtually any modern browser. This connectivity option means lower cost and increased flexibility to your partners, reduced setup and implementation times, zero maintenance, and connection from any computer connected to the Internet.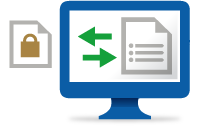 BYOD and Secure Mobile File Transfer
Developed for use with EFT, the Mobile Transfer Client (MTC) mobile app enables secure mobile file transfer, allowing your employees to use their own mobile devices to access corporate data ("BYOD"), while keeping your network secure within the organizational boundaries. With MTC, your organization has the right balance of employee productivity, efficiency, and corporate data security, allowing employees to be on the move with secure access to EFT.