Securing documents in transfer and at rest with secure file transfer solutions is an important step to protecting the data vital to your organization, trading partners, and customers. While Globalscape EFT can do the heavy lifting of moving files securely, adding Vera digital rights management (DRM) takes protecting that data one step further along its journey.
With Globalscape and Vera working in tandem, organizations can gain more control and protection over their sensitive data – defining exactly who has access to their encrypted files anywhere they travel and at any time.
With MFT and digital rights management in place, organizations can address two common data security issues:
How to protect or control files once they are transferred with MFT
How to revoke and control file access for authorized individuals, wherever the file travels
What is a Digital Rights Management Solution and How Does it Work with Managed File Transfer?
Sharing information has always come with risk. When it comes to sharing organizational data, the risk of sensitive data exposure, loss of customer and trading partner trust, as well as any compliance regulation penalties, can be costly.
One key to minimizing data exposure is to put secure parameters around it – specifying exactly who is authorized to view, use, and manipulate it, wherever that data is ultimately transferred.
A DRM solution, such as Vera, delivers this level of control when paired with Globalscape EFT. Combining these two solutions allows organizations to not only transfer sensitive data securely, at rest and in motion, but also to control files beyond traditional file-level .
With Vera, you can apply rights management to each file that is set to be handled by Globalscape EFT, for total file protection. Globalscape and Vera together get your file where it's supposed to be, protected throughout its entire journey, with file permissions totally in your control.
These two award-winning solutions add end-to-end protection and help bolster your overall data security stance.
CISOs Say They're More Cyber-Secure Than a Year Ago. Are You?
How has COVID-19 permanently changed how CISOs approach data security? Over 180 cybersecurity leaders worldwide weighed in on this question to give a fascinating pulse on the security landscape. Read the report to hear how leaders' confidence in security progress is growing, and their security budgets are steady (if not increasing) - while concerns continue to grow in the face of increasing ransomware and cyber criminal activity. You can also watch Cary Hudgins, Vice President of Product for PhishLabs, discuss the survey findings in an interview with ISMG.
Digital Rights Management Key Features
Digital Rights Management Key Features
Transfer, encrypt, protect, and controlfiles with one integrated, intuitive solution that goes beyond more traditional, file-level encryption.
Automatically apply rights managementto every file that lands within Globalscape EFT, for total protection of a file, wherever it may go.
Deliver outbound files with predefined rightsfor a specific partner (for example, you can specify that only emails with a certain domain be allowed to access your files before any PGP encryption or transfer occurs via SFTP.
Flexible deployment: SaaS, hybrid, or on-premise
Active file securityso you can create and change policies dynamically, to enable or restrict user access in real time. You set the policies to be enforced (collaborate or view-only, copy/paste, print, screenshot, dynamic watermarking, etc.).
Go Beyond Managed File Transfer: Integrate Vera with Globalscape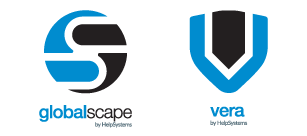 Vera adds significant value to Globalscape EFT because of its ability to continue the protection of files beyond the file transfer process. Sensitive files are protected automatically by default as they land in MFT and are ultimately shared outward.
Common use cases:
Sending batch outbound file transfers and restricting their accessto only those people/partners with a certain email domain

 Sending files via the Web Transfer Client with extra Vera encryption protection right up until when a recipient receives the file

Sending large files via Workspaces, with Vera encryption and access control protection included
Tracking documents even when they go outside of the organization and granting or revoking access at any time
Vera and Globalscape together offer:
Integrated file transfer, encryption, and rights management for total file protection
No installation necessary for the end user
Default protection for sensitive files as they land in MFT and are shared outwardly
Easy compliance with a full audit trail end-to-end
The Combined Benefits of MFT and Digital Rights Management
Modern solutions for modern enterprises.These unified, web-based solutions offer you great technology that is being continually developed.
Cross platform.HelpSystems customers have diverse environments and need a solution that deploys everywhere.
We meet you where you are now, and in the future, with flexible pricing and configuration as your needs change and develop.
Ease of use.Easy to deploy, maintain, update, and manage as organization needs change or develop.
One reliable vendor.HelpSystems is a single vendor offering stability and help solving real, ongoing challenges by integrating your MFT and DRM.
Adding Vera to Globalscape EFT
Globalscape EFT and Vera digital rights management – both part of the data security suite from HelpSystems – work together to improve your cybersecurity stance. Share critical information inside and outside your organization with an unprecedented level of management control and security.