GlobalSCAPE, Inc. Recognized for Third Consecutive Year as One of 2016's Best Places to Work in IT by IDG's Computerworld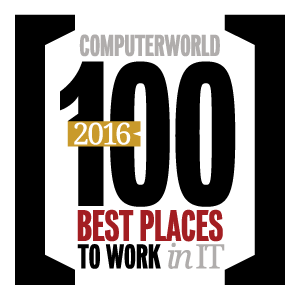 GlobalSCAPE, Inc. (NYSE MKT: GSB), a pioneer and worldwide leader in the secure and reliable exchange of business information, announced today that IDG's Computerworld has selected the company as one of the 2016 Best Places to Work in IT. Recognized alongside only 99 other organizations, Globalscape stood out through employee endorsements in categories such as benefits, career development, training and retention.
Globalscape was ranked number three among twenty-nine small organizations (or companies with less than 1000 U.S.-based employees) on the Best Places to Work in IT list. With this year's recognition, Globalscape has been named to the list for the third consecutive year and fifth time within the last seven years.
Globalscape offers a number of programs and initiatives to recruit and retain talent, in addition to competitive benefits and compensation. Standard perks like training, individual development programs and tuition reimbursement are just a few ways that Globalscape emphasizes its commitment to professional development and company culture.  
A complete list of the 100 Best Place to Work in IT will be featured in Computerworld's digital magazine and online at www.Computerworld.com, with results from the 23rd annual Best Places to Work in IT survey.
Supporting Quotes:
Andrea Farmer, Vice President of Human Resources at Globalscape
"Globalscape is proud of the many awards we've earned over the years, but we're proudest when those recognitions are based on employee feedback. IT jobs are in high-demand, and so a workplace where people want to be, and that recognizes and rewards staff contributions in sincere and meaningful ways, makes it easier to recruit and retain the best talent in the industry. That's why we're thrilled to receive this recognition from Computerworld as it highlights not only our company culture but also our strength in career development for IT staff."
Scot Finnie, Editor in Chief at Computerworld
"The organizations on this year's Best Places to Work in IT list excel at creating a dynamic and satisfying IT work environment. In a competitive market for tech talent, these outstanding employers are able to attract highly skilled IT pros by offering great benefits, new learning opportunities, access to cutting-edge technologies and challenging, business-critical projects."
About the Best Places to Work in IT List
The Best Places to Work in Information Technology (IT) list is an annual ranking of the top 100 work environments for technology professionals by IDG's Computerworld. The list is compiled based on a comprehensive questionnaire regarding company offerings in categories such as benefits, career development, training and retention. In addition, Computerworld conducts extensive surveys of IT workers, and their responses factor heavily in determining the rankings.
About Computerworld
Computerworld is the leading IT media brand helping senior IT, business decision-makers and key influencers navigate change with effective business strategy. As the voice of business technology, Computerworld enables the IT value chain with unique editorial coverage from setting strategies to deriving value. Computerworld's award-winning website (www.computerworld.com), focused conference series, strategic marketing solutions and research forms the hub of the world's largest (40+ edition) global IT media network and provides opportunities for IT vendors to engage this audience. Computerworld leads the industry with an online audience of over 7.5 million monthly page views (Omniture, July 2015 – December 2015 average). Computerworld is published by IDG Enterprise, a subsidiary of International Data Group (IDG), the world's leading media, events and research company. Company information is available at www.idgenterprise.com.
 
About Globalscape
GlobalSCAPE, Inc. (NYSE MKT: GSB) is a pioneer in the reliable exchange of mission-critical business data and intellectual property. Globalscape's leading enterprise suite of solutions delivers military-proven security for achieving best-in-class control and visibility of data across multiple locations. Founded in 1996, Globalscape's software and services are trusted by tens of thousands of customers worldwide, including global enterprises, governments, and small and medium enterprises. For more information, visit www.globalscape.com or follow the blog and Twitter updates.
Safe Harbor Statement
This press release contains forward-looking statements within the meaning of Section 27A of the Securities Act of 1933 and Section 21E of the Securities Exchange Act of 1934. The words "would," "exceed," "should," "anticipates," "believe," "steady," "dramatic," "expect," and variations of such words and similar expressions identify forward-looking statements, but their absence does not mean that a statement is not a forward-looking statement. These forward-looking statements are based upon the Company's current expectations and are subject to a number of risks, uncertainties and assumptions. The Company undertakes no obligation to update any forward-looking statements, whether as a result of new information, future events or otherwise. Among the important factors that could cause actual results to differ significantly from those expressed or implied by such forward-looking statements are risks that are detailed in the Company's Annual Report on Form 10-K for the 2015 fiscal year, filed with the Securities and Exchange Commission on March 3, 2016.