Two GlobalSCAPE, Inc. Channel Team Members Honored by CRN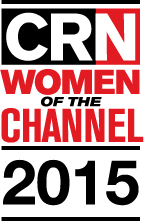 GlobalSCAPE, Inc. (NYSE MKT: GSB), a leading developer of secure information exchange solutions, today announced that Christina Nigg, Channel Sales Manager and Danielle Fontana, Channel Marketing Manager have been named to The Channel Company's prestigious 2015 CRN® Women of the Channel list. The annual list honors outstanding female executives across vendor channel organizations, distributors, solution providers and other women prominently involved in the IT channel ecosystem for their successes and the far-reaching impact they are having on the technology industry going forward.
This year's Women of the Channel were carefully reviewed and selected by the editors of CRN based on their accomplishments and the influence they wield over the technology channel.
Christina Nigg has spent almost 15 years working in the channel, most recently responsible for managing Globalscape's relationship with CDW while Danielle Fontana has devoted five years to working in the channel, primarily overseeing Globalscape's marketing efforts with its channel partners and distributors.
Globalscape continues to invest in channel activities that support the partner community through a tailored program that enables ongoing access to advanced technical solutions and sales experience, and provides the expertise to identify future growth opportunities. Throughout 2015, Globalscape's partners will see increases in technical training opportunities designed to enable them to better support customers; as well as a continued focus on a partner program that is designed to reward dedicated partners.
The Globalscape Partner Program offers:
Sales and Marketing support: demand generation, opportunity field sales, marketing and technical support
Deal registration program
Access to partner only portal
Technical Training

SUPPORTING QUOTES:
Matt Goulet, Senior Vice President of Sales and Marketing, Globalscape
"It's an honor to have not one, but two members of the Globalscape channel team named to the CRN Women of the Channel list. Being recognized by CRN validates Christina and Danielle's commitment to creating meaningful, strong relationships with our current and future channel partners. This resolve will help guide our larger channel program into stability and continued growth."
Chris Cleary, Senior Director of Channel Sales, Globalscape
"The Globalscape channel team is clearly going above and beyond in developing and sustaining a successful partner program in a short amount of time. Recognizing two of our team members as a part of the Women in the Channel list as well as awarding Globalscape with a 5-Star Rating is a confirmation that the hard work is paying off. Of course, we'll continue to evolve our program based on the needs of our customers and strive for excellence within the industry."
Robert Faletra, CEO of The Channel Company
"These executives have made a lasting mark on the industry, expanding the breadth of influence in the technology channel. We congratulate the Women of the Channel, and celebrate their innovative contributions and commitment to the IT channel community."
 
The Women of the Channel will be featured in the June issue of CRN, and online at www.CRN.com.
About The Channel Company
The Channel Company, with established brands including CRN®, XChange® Events, IPED® and SharedVue®, is the channel community's trusted authority for growth and innovation. For more than three decades, we have leveraged our proven and leading-edge platforms to deliver prescriptive sales and marketing solutions for the technology channel. The Channel Company provides Communication, Recruitment, Engagement, Enablement, Demand Generation and Intelligence services to drive technology partnerships. Learn more at www.thechannelcompany.com.
About Globalscape
San Antonio, Texas-based GlobalSCAPE, Inc. (NYSE MKT: GSB) ensures the reliability of mission-critical operations by securing sensitive data and intellectual property. Globalscape's suite of solutions features EFT, the industry-leading enterprise file transfer solution that delivers military-grade security and a customizable platform for achieving best in class control and visibility of data in motion or at rest, across multiple locations. Founded in 1996, Globalscape is a leading enterprise solution provider of secure information exchange software and services to thousands of customers, including global enterprises, governments and small businesses. For more information, visit Globalscape, or subscribe to our Blog or Twitter updates.
Safe Harbor Statement
This press release contains forward-looking statements within the meaning of Section 27A of the Securities Act of 1933 and Section 21E of the Securities Exchange Act of 1934. The words "would," "exceed," "should," "anticipates," "believe," "steady," "dramatic," and variations of such words and similar expressions identify forward-looking statements, but their absence does not mean that a statement is not a forward-looking statement. These forward-looking statements are based upon the Company's current expectations and are subject to a number of risks, uncertainties and assumptions. The Company undertakes no obligation to update any forward-looking statements, whether as a result of new information, future events or otherwise. Among the important factors that could cause actual results to differ significantly from those expressed or implied by such forward-looking statements are risks that are detailed in the Company's Annual Report on Form 10-K for the 2014 fiscal year, filed with the Securities and Exchange Commission on March 30, 2015.